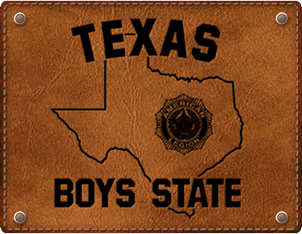 Texas Boys State is a program for qualified high school juniors who take part in a week long educational program at the University of Texas in Austin. Each participant becomes a part of the operation of his local, county and state government.
Additional information pertaining to Boys State can be obtained on the American Legion, Department of Texas web site at: www.TexasBoysState.com
The 2019 Texas Boys State will be held in June 2019 at the University of Texas in Austin. Dates have not yet been set. American Legion H.U. Wood Post 245 will be sponsoring boys who are attending High School in Guadalupe County. Interested juniors can contact the American Legion Post 245 for futher information at post245@seguinlegion.org or by calling 830-379-1079. Your High School Counselors also have information on the Texas Boys State Program.
APPLICATION INSTRUCTIONS:
* It is mandatory that you apply on-line at texasboysstate.com
* You must print your on-line registrations and it must be dropped off at H.U. Wood, American Legion Post 245 at 618 E. Kingsbury St., Seguin, Texas. (Hours open: 1:00 pm - 7:00 pm, Monday thru Saturday).
* Ensure that you fill out the Legion Sponsor information to reflect:
Post Number: 245
Name of Post: H.U. Wood
City: Seguin
District Number: 14
Full Name of Post Representative: Jerry Ramirez
Representative's Email: zerimaj@hotmail.com
Representative's Phone Number: (210) 382-2585
* It is mandatory that you attend the Interview/Orientation on February 20, 2019 at 6:00pm or March 5, 2019 at 6:00pm. Parents are invited to attend.
* For any additional information, please contact Jerry Ramirez at (210) 382-2585 or email at zerimarj@hotmail.com
The American Legion Auxiliary sponsors a similar program called Girls State